WELCOME FROM THE PRINCIPAL
As Principal of Sir Thomas Wharton Academy, I am delighted to we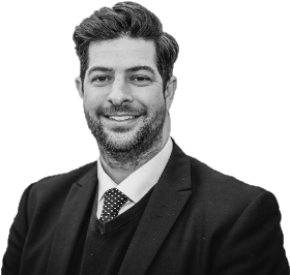 lcome you to our school. Sir Thomas Wharton Academy is a growing and ambitious secondary school that serves over 1000 students from the community of Edlington and surrounding areas.
As part of the Maltby Learning Trust, we have secured significant improvements, having most recently been judged as a 'Good' school in our September 2021 OFSTED inspection. Maltby Learning Trust is an organisation driven entirely by the desire to provide an

exceptional education; as part of this aspiration, STWA strives to become a leading educational establishment in the country
Our vision
'Deliver exceptional learning experiences that enable all young people to thrive in a competitive world and lead successful and fulfilling lives.'
To achieve this, we are fortunate to benefit from an exceptional building that provides a vibrant, well-resourced learning environment, which is highly flexible to meet the needs of all learners.
We are passionate about supporting all students in their pursuit of success and happiness; we firmly believe that this is achieved through a relentless commitment to demonstrating our six key drivers: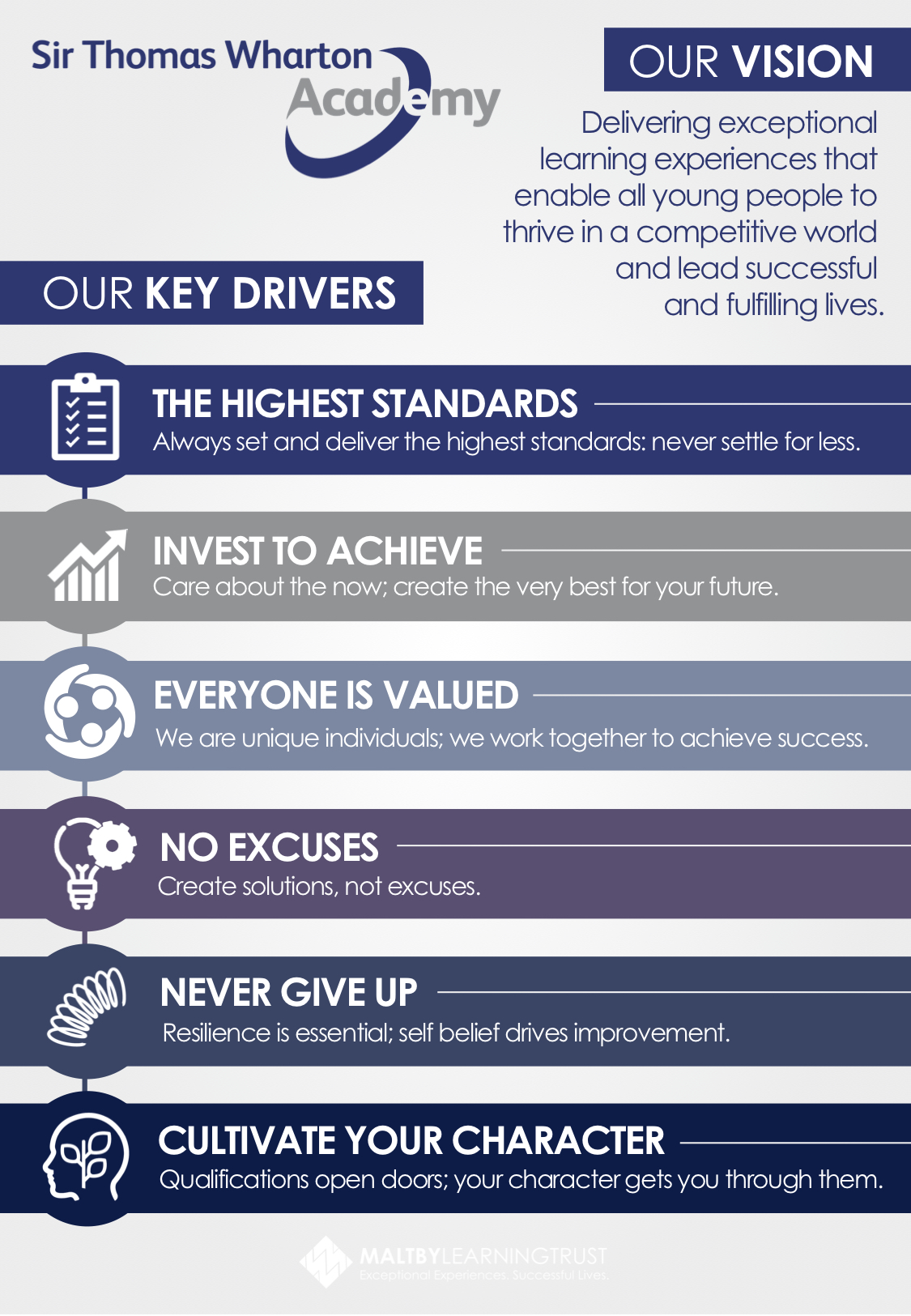 Members of staff at Sir Thomas Wharton Academy, and within the Trust, are wholeheartedly dedicated to ensuring that all students in our care receive a first-class education and achieve their goals in life, whatever they might be. Our staff value each of our students as individuals and work tirelessly to ensure that students achieve excellent GCSE and A-Level examination outcomes and develop into positive members of society. We are committed to:
Ensuring young people and adults are fully invested in learning through the inspirational teaching of an inspiring, knowledge rich curriculum which secures excellent outcomes and positive progression routes for all: no-one is left behind.
Recruiting, developing and retaining a talented workforce which strives for excellence and invests in young people and the community to be the best they can be.
Ensuring young people cultivate their character to develop the skills and qualities to be successful learners and responsible citizens.
Promoting traditional values of good manners, courtesy, and politeness.
Developing a culture of investment: ambition, consistently high expectations and standards that resonate through everything that we do.
Investing in, and enjoying, purposeful and supportive collaborative relationships to achieve excellence in all we do.
STAFF PLD (Professional Learning Development)
To ensure that all staff can deliver Exceptional Learning Experiences we provide an extensive PLD programme:
PLD Sessions
Staff attend weekly PLD sessions which are aligned to their own needs and the priorities of the Academy. These sessions are planned and delivered by exceptional staff who use our Lesson cycle and the MLT standard to ensure a thorough programme of PLD is implemented over the academic year.
Staff Reading
Each member of staff is provided with a specific teaching and learning book which has been selected to align with our needs and the MLT standard. The chosen book will be regularly reviewed to generate discussion and debate amongst staff to support development.
IRIS Connect
IRIS Connect allows staff to reflect and gain a deeper insight into their teaching practice. The technology supports our shared desire to continually seek improvements in our day-to-day practice so that all staff can provide exceptional learning experiences.
Drop Ins
We have an open-door policy in the Academy where staff receive regular, high-quality feedback following low stake drop ins. Our Drop-Ins are purely developmental.
THE HOUSE SYSTEM
A four-house system exists at STWA to promote the values strongly associated with character education and to instil the importance of teamwork, collective responsibility and belonging. Recently rebranded, the four houses are linked to local prominent stately homes: Cusworth, Brodsworth, Chatsworth, and Wentworth - each house is identified by three bespoke words that epitomise their unique values. Each house is overseen by key staff who act as house leaders and facilitate the involvement of students in house activities and competitions, whilst celebrating their successes through half-termly house assemblies. Students are also able to apply to become house captains via campaign speeches in house assemblies, and subsequently assume leadership roles within their house for the academic year. Academy-wide house activities also run throughout the year: these range from termly events such as Christmas hamper competitions, Academy sports days and Easter Egg hunts, to smaller weekly activities such as poetry competitions and research tasks. These activities enable student to win points for their respective houses and compete for the grand Golden Ticket house prize.

SPORT AND EXTRA CURRICULAR
Experiences beyond the classroom are key to developing character and whilst academic outcomes will open doors, we recognise that it is very often a person's character that secures further opportunities. We pride ourselves on the extensive enrichment programme we provide for all students and work hard to create memories that will last a lifetime. Please take a look at our enrichment brochures to find out more.
VISITS
Our day-to-day provision is exceptional. We are so confident that we invite you to visit at a time and date that suits you: simply request a tour and myself, or another member of our senior team, will be more than happy to provide you with a comprehensive tour of our Academy. We feel privileged and proud to observe exceptional teaching and learning every day; we would love for you to see it too.
The relationships we form with the community and parents are extremely important to us and essential to the success of our students. These relationships are based on trust and communication, therefore I encourage you to contact me personally if you have any questions or queries about our Academy.
I look forward to working in partnership with you to ensure that all our students are successful in their time with us at Sir Thomas Wharton Academy, their future studies, careers and lives.
Mr McDonald, Principal