PARENT & COMMUNITY ADVISORY BOARD (PCAB)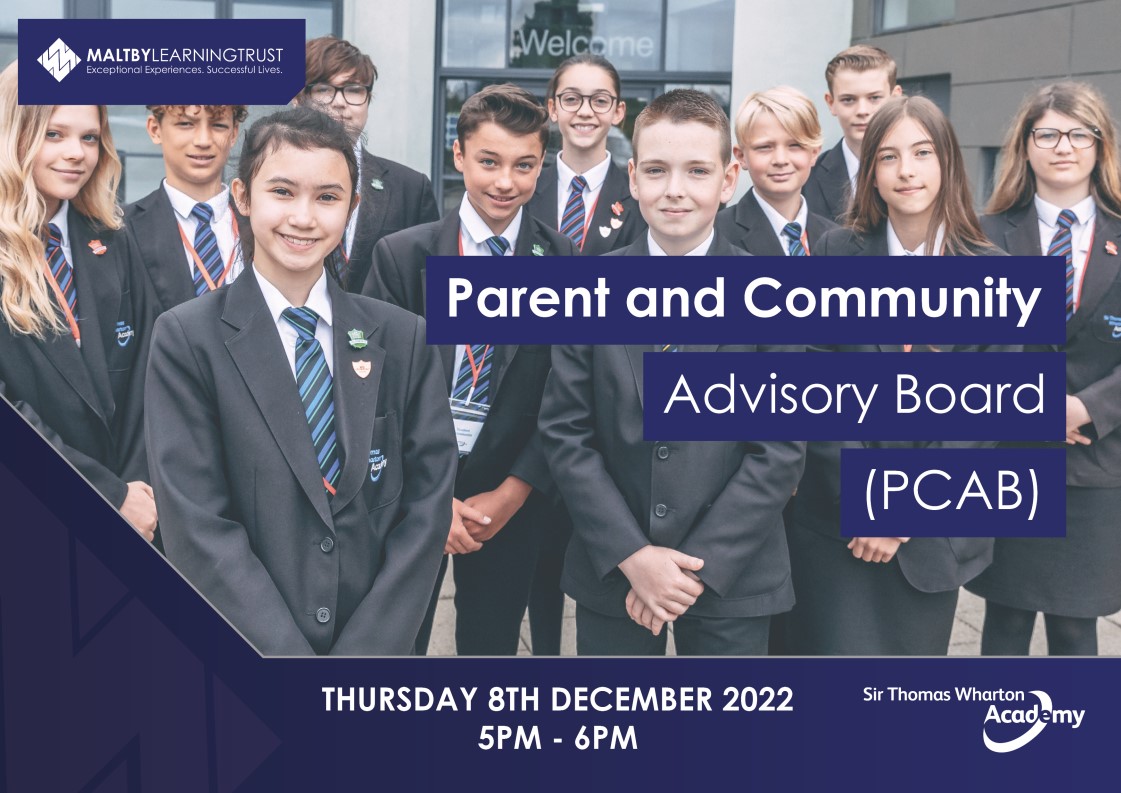 In order to reflect on the areas of strength and opportunities for development within our school, our Parent & Community Advisory Board (PCAB) meets once a term with members of staff and the Senior Leadership team.
The PCAB has a dual purpose:
It allows parents/carers and members of the community to provide feedback to Leaders on current systems, successes, and areas for development.
It is an opportunity for the Academy to provide updates to our members on the progress we are making and share early thinking about upcoming developments.
Our first meeting of this school year will be on Thursday 8th December at STWA 5pm - 6pm. The meeting will primarily focus on the following areas:
Reading - we will discuss student testing, whole school reading strategies, support available and use of the library.
Communication - we will discuss the ways we communicate with home, use of Class Charts and praise.
Support - we are interested in offering free adult literacy classes to parents, carers and the wider community, if there is a desire to access this.
Attendance to the meeting will automatically enter parents and carers into a prize draw, and all attendees will also be invited back the following week as VIP guests to our family dining Christmas meal.
If you are interested in attending this meeting, please email to g.harris@stwacademy.com
There is currently a survey for parents and carers to complete to give their view on the school. It can be accessed and filled in on this link: - https://forms.office.com/r/kECu0SgXL7
Thank you for your time in helping the school on our improvement journey.
March Meeting minutes
Parent and Community Advisory Board: Minutes (30.03.22)
Have you considered changing the school day to reduce the length of lessons?
Lessons currently last 100 minutes, and we have received positive feedback from staff and students, who both report that the increased length of lessons allows for subjects to be explored in more depth. There are currently no plans to change the length of lessons, but we will continue to monitor through staff and student voice.
Is forest school something you might introduce?
No secondary schools in Doncaster currently offer forest school, but it is something we are looking to implement as part of our provision in the future.
Are you signed up to Operation Encompass?
Yes, we are.
If a student has not yet secured a diagnosis, would provision for SEND still be put in place?
Yes, we provide support to students while they are waiting for a diagnosis. Equally, we can provide support if parents do not want to secure a diagnosis.
Do you offer group sessions for students struggling with their mental health?
Currently, sessions in Thrive are bespoke to each student, but there is potential to offer group sessions in future. Miss Dixon is currently working with the Educational Psychologist to offer group sessions for neurodiverse students.
Would the culture pledge be met by students attending a film convention?
Yes, we encourage our students to take part in any events that support their personal development through their participation in cultural events, including (but not limited to) trips to museums, concerts and film conventions.
Are staff trained in how to support students' mental health?
Miss Severns has completed her training as a First Aider in mental health and is now undertaking training to be able to train others. This will allow Miss Severns to train members of staff to be First Aiders in mental health in the coming months.
How do you support students' transition between mainstream classrooms and inclusion settings, including Thrive and Exceed?
In addition to the strategies detailed in students' IEPs, we look to make reasonable adjustments for students based on their SEND to ensure mainstream classrooms are as inclusive as possible. We will continue to upskill our staff on how they can do this effectively to ensure situations do not escalate and to ensure adjustments are not detrimental to the wider student population.
Is student success always celebrated publicly?
Student achievements are always acknowledged and celebrated, but these do not always take place in a public forum. For example, pledges are personal and they are recorded in planners for students to feel a sense of ownership. Through the tutor programme, there are opportunities for students to celebrate their success with a peer and their form tutor. Being in photographs on social media is not compulsory.
Will the book vending machine offer rewards beyond books?
The rewards store will offer students the opportunity to exchange house points for rewards, including book tokens for the vending machine. While the book vending machine only offers books, other rewards, such as craft materials, will be available from the rewards store.
How do you conduct student voice?
We intend to launch a Student Council, but we currently use a combination of in-person focus groups and anonymous online surveys (Microsoft Forms) to support students to offer feedback on how we can continue to improve our academy.
How do you support vulnerable students with the transition from primary?
Students who may struggle with the transition are identified at primary school in Year 6 and we work with these students before they start in September. This includes smaller transition events that take place more frequently so students can meet staff, develop new friendships and get to know our building before they join Year 7.
---
Parent survey archives:
Whole Academy - End of Academic Year Survey Results 2018/19
Year 7 Parents Evening Survey - October 2019
Year 11 Parents Evening Survey - November 2019
Year 9 Parents Evening Survey - December 2019
Year 8 Parents Evening Survey - February 2020